&nbsp &nbsp &nbsp &nbsp &nbsp &nbsp There are many, many white guys out there named Brian Clark; and even a few Brian M. Clarks as well. This particular Brian M. Clark is an avocational writer, hobbyist musician, and lover of cheap beer who lives in scenic Denver, Colorado. You've probably never heard of him before, but if for some reason you've had the misfortune of previously being made aware of his existence, it might be because he owns and operates the independent recording label Discriminate Audio, or because he oversaw the now-defunct Unpop Art Movement during the latter half of the aughts.
&nbsp &nbsp &nbsp &nbsp &nbsp &nbsp Perceptive readers may have already gathered that this particular Brian M. Clark is extremely fond of writing about himself in the third person, especially in situations such as this, when there's simply nobody else around to butress his deluded sense of lingering relevance. Anyway, this website is devoted to Mr. Clark's hobbies, none of which should be taken terribly seriously. Site visitors are encouraged to send questions, comments, complaints, suggestions, hate mail and naked lady photos to brian@brianmclark.com. Thanks for dropping by.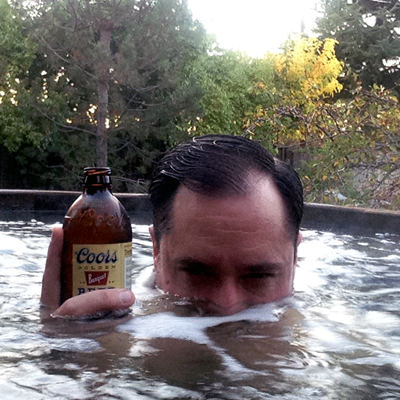 ---
‒ Books ‒
[ Click book covers for detailed info. ]
Fuck All You Motherfuckers

Humor, 2010 / 2015.

Paperback, 190 Pages.


Boyd Rice:
A Biography

Biography, 2007 / 2015.

Paperback, 236 Pages.


What Will Really Happen in 2012?

Novelty, 2010.

Paperback, 202 Pages.

Out of print.




‒ Music ‒
[ Click album covers for detailed info. ]


Multicolored Jam B/W
Sea of Heartbreak
(Feat. Brian M. Clark)

Digital single, 2019




Cimarron Moon B/W
Happy People

Digital single, 2016






Songs From The Empty Places Where People Killed Themselves

12" vinyl EP, 2011.






Sunset Strip SS B/W
Going Steady With Peggy Moffitt
(Feat. Brian M. Clark)

Digital Single, 2008.






The Unscratchable Itch:
A Tribute To Little Fyodor

CD, 2013.


Unborn Ghost

(In progress)





‒ Online Texts ‒
"Why I Drink: And Why Motherfuckers Need To Quit Telling Me To Stop – A Case Against Prohibitionism"
(Modern Drunkard Magazine, 2011.)

"King Con: An interview with Brian Brushwood of Scam School"
(Modern Drunkard Magazine, 2011.)

"Fuck you and your stupid, stupid cat: Toxoplasmosis and why pet-lovers can all go eat a bag of dicks."
(UnPopArt.org, 2009.)

"Henry Rollins, The Problem Of Argument From Celebrity Authority & Other Stupid-Yet-Common Logical Fallacies"
(Syntax, 2009.)

"Torn Between Two Bitches: A Review"
(LAist.com, 2008.)

"The Amazing Story Of Ralph Gean"
(CD liner notes. Discriminate Audio, 2006.)

"True Alcohol Action!: An interview with Adam Parfrey of Feral House"
(Modern Drunkard Magazine, 2006.)

"The March Of Man's True Destiny: An interview with Douglas Pearce of Crisis / Death In June"
(Occidental Congress, 2006.)

"Drinking With The Band: An interview with Matt Skiba of Alkaline Trio"
(Modern Drunkard Magazine, 2005.)

"Bullfights, Whores & Tequila: An interview with documentary filmmaker Larry Wessel"
(Modern Drunkard Magazine, 2004.)

"The World's Best Wax Museum: El Museo De Cera"
(International Living magazine, 2002.)